Reclaiming work as a source of meaning, joy, purpose, and expression is a powerful pursuit.
At the same time, we all know, it's not easy. And, it's not instant.
This journey will take time, intention, and effort. And, there will be stumbles, challenges, trials, and missteps along the way. Not because you're doing anything wrong, but because that's part of the process of growth.
It's important to own these truths, along with the incredible excitement, energy, and sense of possibility that fuels the quest to reimagine and rebuild a work-life worthy of your devotion. One that makes you truly come alive.
Is it possible to do this level of work on your own? Sure.
But, doing it in community with fellow Sparked strivers, along with access to mentors, guides, community, additional tools, strategies, insights, ideas, shared experiences, and support, well, that makes the experience not just a whole lot more joyful, but also far more likely to lead to success.
Which is why we've created the Sparked Collective™ for you.

Your home base for Sparked insight, action-taking & support
As a member of the Sparked Collective, you'll enjoy:

Sparketype Activation Digests for all 10 Sparketypes
We've created special 3-5 page digests for each of the 10 Sparketypes, so you can dive into and deepen your understanding in a more nuanced and actionable way (these will be especially helpful for those who've ordered your copy of SPARKED, and are awaiting its arrival). They let you move into action more quickly.
Twice-monthly Video Group Coaching and Q & A
Twice a month, you'll be invited to participate in Collective-only live group video coaching and Q&A sessions with our gifted mentoring faculty, including Sparketype founder, Jonathan Fields. It's a rare opportunity to ask questions, share stories, and learn new approaches, insights, and strategies in real-time, and also learn from the shared experiences and solutions of others in our community.


Over time, we'll be making available a growing library of masterclasses that speak to specific goals and desired outcomes, from Sparking your current work to finding new work to identifying and optimizing key elements beyond the Sparketypes that serve as catalysts for growth, impact, and success. These will be available inside the Collective at a special reduced members-only tuition that will be substantially discounted from public offerings.
NOTE: Right now, when you pre-order your copy of SPARKED, you will get immediate FREE access to our flagship Spark Your Work masterclass inside the Collective, included at no additional investment ($350 value).
Sparked Collective Private Community
Beyond access to expertise, wisdom, and guidance, a big part of your ability to not only succeed in transforming the way you experience work but also savor the process is about community. Everything becomes easier, better, more joyful, and alive when you do the work alongside people who are right there doing it with you. Even better when those amazing humans get you on a level nobody else does, because they share that same inner driver, your Sparketype, and can truly understand and empathize.
In addition, when you find yourself in a community with people like you, sharing on that same level, a certain collective body-of-wisdom begins to build. One that can grow into a lifelong wisdom archive to return to, learn from, and contribute to, as well all reclaim work and rise together.
This opportunity, to be in community with people like you in a safe, informed, and aspirational space, where the ethos is "we all lift each other up," is transformational. Not just in work, but in life. And, it is at the heart of the Sparked Collective.

Membership Investment (we'll never do this again)
The usual membership fee for the Sparked Collective is $50/month. BUT, right now, we're doing something pretty incredible.
When you pre-order your copy of SPARKED, the groundbreaking new book by Sparketype creator Jonathan Fields, you will get immediate access to the SPARKED Collective for the rest of the year FOR FREE!
That's a $50 per month value (the sooner you grab the book, the more time, coaching, community, and support you benefit from), in exchange for simply pre-ordering a book that is a fraction of the usual cost of just a single month of membership.
Learn more and pre-order your copy NOW, then join us in the Collective through the rest of the year FOR FREE.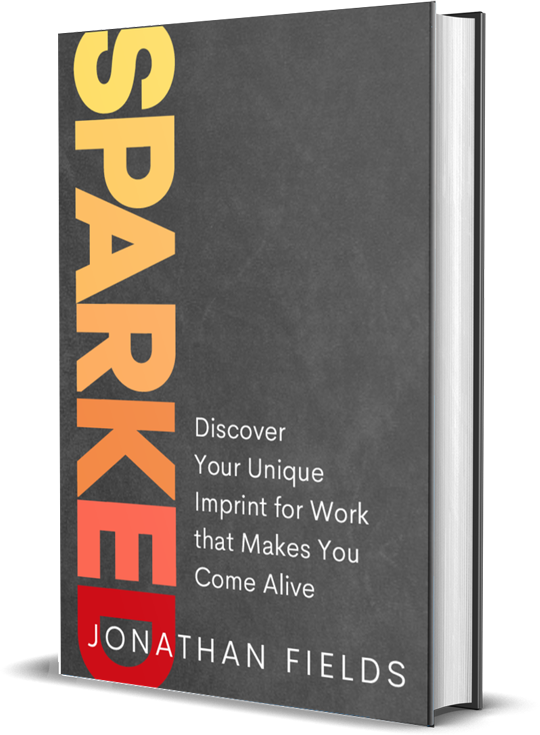 I'm in! What happens after I pre-order SPARKED?
Welcome! We're so excited.

After ordering SPARKED, just return to the SPARKED book page to confirm your purchase, within minutes you'll get a welcome email with all of the details. It'll walk you through joining the community and introducing yourself, participating in the monthly mentoring calls, joining the conversation in channels devoted to your Sparketypes, and more.
Once you log into the community, you'll see a welcome video that shows you around. It's super-intuitive, no real learning curve to worry about. And, of course, you can always ask questions both in the community and through our email support.